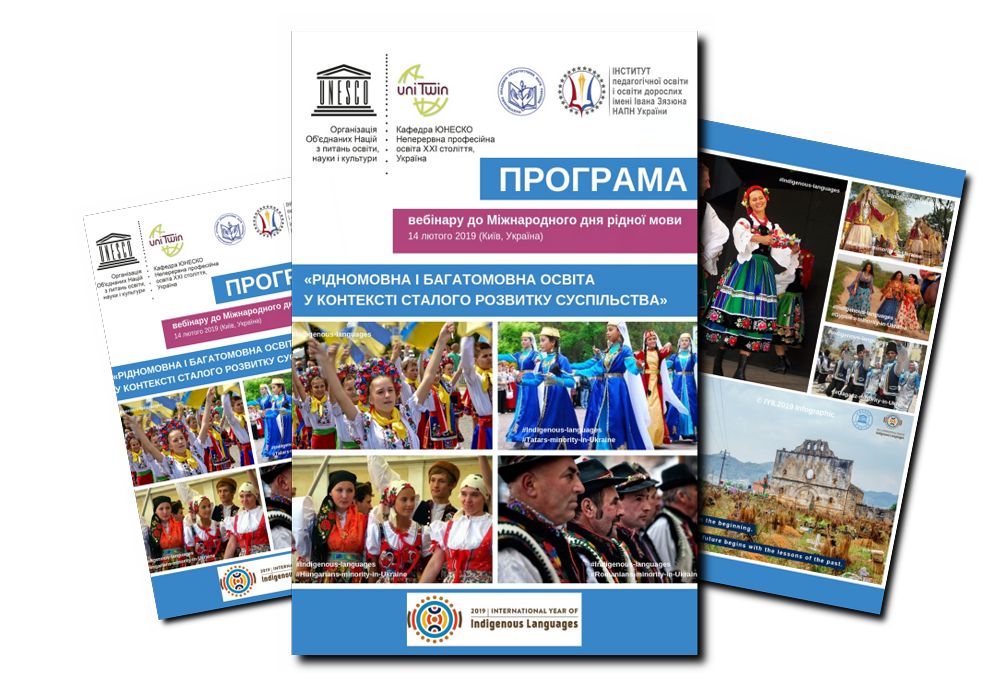 February 14, 2019 10:00 am - February 14, 2019 6:00 pm
Kyiv | UNESCO Chair on Lifelong Professional Education in the XXI Century NAES of Ukraine (based on Ivan Ziaziun Institute of Pedagogical and Adult Education of the NAES of Ukraine)
Médias
On February 14, 2019 was held a III webinar on Mother Language and Multilingual Education in the Context of Sustainable Development (Kyiv, Ukraine), dedicated to the International Mother Language Day 2019.
The initiators of the event were the UNESCO Chair on Lifelong Professional Education in the XXI Century and the Ivan Ziaziun Institute of Pedagogical and Adult Education of the National Academy of Educational Sciences of Ukraine.
The co-organizers of the webinar were:
the All-Ukrainian Society "Taras Shevchenko Prosvita",
the Congress of Ukrainian Intellectuals, the Scientific Research Laboratory of the Borys Hrinchenko Kyiv University,
the Research Laboratory of Academic Culture of the Anton Makarenko Sumy State Pedagogical University.
Webinar participants have been more than 100 people: NGOs representatives, academics, students, postgraduate students, researchers, university lecturers, teachers of general and pre-school institutions, trainers.
An online discussion platform have been scheduled for discussion and conclusion of scientific and practical recommendations for modern education on the following issues:
linguistic identity in the third millennium, the priorities of the mother language and multilingual education in Ukraine and in the world;
transformation of the concept "literacy" in the modern socio-cultural context;
creating Centres of Languages and Cultures in Ukraine: experience and development perspectives;
language and culture of indigenous peoples as a determining factor in the intellectual and creative development of the younger generation;
European experience of multilingual education and perspectives for the Ukrainian schools;
popularization of multilinganguism among teachers of higher education institutions as a condition for ensuring their leadership in civil society;
cross-cultural component of teacher's professional development;
linguistic component of the civic competence of the future teacher;
creation of the language and culture environment in educational institutions of Ukraine as a factor of the national youth outlook development.